The kingdom of luxury by the sea
Palace -style hotels offer peaceful relaxation by a pool in the shade of lush palm trees or on a private beach which quietness is broken by whispering of waves only.
Welcome to the kingdom of luxury! I find myself thinking the beginning of the history looks like a brochure. By the way my addiction to Dubai began with an advertisement. In 2002 seemed to be far away from now, I came across with a Palm Jumeirah man- made island brochure. Such extraordinary large-scale project seemed impossible to be executed. But this magical island with the most expensive villas and Deluxe hotels had been built in less than ten years.
Why was this huge artificial island looking like a date palm tree needed?
In a word, having put all sheikhs' ambitions and their wish to impress the world off, to increase Dubai coastline and the area of white-sand beaches either.

Sheikh Mohammed bin Rashid Al Maktoum, the Vice President of the United Arab Emirates and constitutional monarch of Dubai was the one who initiated Palm Jumeirah mega project. The island has a form of a date palm tree — a symbol of Dubai emirate. Man-made Palm Jumeirah Island is the result of complicated design analysis. They allowed to correlated shoreline legislation and a site plot to place as many villas, hotels and restaurants as possible. Having 5,5 kilometers in diameter the island has got a 56 kilometer coastline due to 17 palm branches that 9 times bigger if it were just a round one.
All the hotels in Jumeirah uptown and its neibourhood are expensive and of a very good quality. I would like to spot the most interesting ones (of cause my opinion is subjective).
Royal Residences Jumeirah Zabeel Saray located on Palm Jumeirah Island I want to start my story with.
There is a separate entrance to the Royal Residences territory, it's carefully guarded. Which is understandable, the guests staying at the villas are VIPs: the world-known celebrities, businessmen, ministers and heads of states.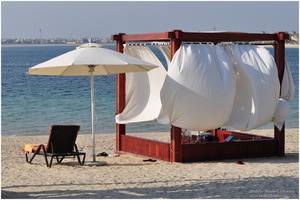 There are no people on the clean, white sand shore. The wooden pavilions with white curtains resemble sailboats.
Jumeirah Zabeel Saray is a beautiful palace actualizing Ottoman Empire scale. Sparkling of marble and cut-glass chandeliers, through-craved work decorated with hand-painting, amazing frescos, sophisticated antiques and finest pieces of Turkish art can be found side by side with the most up-to-date technical equipment and service of the XXIst century.

That's what the flyer says and being a witness I would swear to it. Impressive!
A picturesque road to the beach goes through deserted streets full of mansions. Everywhere there are palm trees, bushes, flower beds. Each villa has its own beach access through the patio. There are bridges crossing the water channels. After little wandering around the territory you finally reach a green fence made of closely set plants. Behind it there is a warm and gentle bay. The remote blue horizon is invisible; the mist only lets you see the neighboring island "branch" built up with mansions.
HideShow

It is worth being mentioned all the hotels on Palm Jumeirah Island are wonderful in their own way. The beaches are well-maintained and mostly empty. The comfort, the feeling of exceptionality, the intimate union with the sea: all of this you get plenty.
There are amazing palaces-hotels not only on the Palm Jumeirah. One&Only Royal Mirage in Al Sufouh is one of the continental hotels worth paying attention to.
I saw this glamorous hotel many years ago in a magazine when I just started learning about Emirates. The hotel ad made me think of bliss, the East and some completely different fine life.
My dream to come to Dubai and stay at One&Only did not happen straight away. But eventually the fairy tale did come true.
I love this hotel for its beauty and coziness, for beautiful green gardens with singing birds, and for the last but not the least magnificent sea view and deserted beaches.
The name of the hotel is translated a word for word as "The only one and one-of-a-kind royal mirage". Beautiful like a fantasy The One&Only Royal Mirage reproduces palatial architecture of royal Morocco faithfully. You are surrounded by fountains, flowerbeds and flowerpots, mosaic floors, the most beautiful carpets, camel packs hanging out on the walls, elegant arches, gold-plated domes and secret patios.

This description was taken from the brochure either. A truer word was never spoken! The most beautiful hotel!
I spent the first days in Dubai at my dream hotel. The palace was surrounded with green gardens full of lush palm trees and juicy lawns. Singing birds, the gently warming October sun. From the balcony you could see the soft-blue sea with moored yachts. The manmade island Palm Jumeirah was in close vicinity. I was happy and surrounded with love. These are my warm memories about those beautiful days.
HideShow

Such a long story, huh? The description of another beautiful palace-hotel Al Qasr which is a part of Madinat Jumeirah resort and locating on the Front and will be a logical end to my story.
Madinat is translated from Arabic as "a town". Madinat Jumeirah resort includes Min A'Salam hotel (translated from Arabic as "a harbor of calmness") and Al Qasr (translated from Arabic as "a castle") and villas.
The territory of the resort is impressive – 40 hectares! Madinat Jumeirah is connected by the promenade lining up the sea with two other Jumeirah hotels - Burj Al Arab Jumeirah, Jumeirah Beach and Wild Wadi Waterpark. Madinat Jumeirah has got an excellent beach near Burj Al Arab.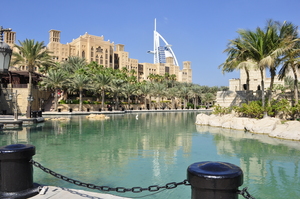 There is a very interesting and a very busy place - a souk or Madinat Jumeirah bazaar where souvenirs, oriental spices, hookahs and many other things can be purchased. Apart from shops there are restaurants of different national cuisines.
One more unusual hotel - Al Qasr hotel - reminds an old Arabic fortress by its architecture. The rooms of the hotel are decorated with sepia-photographs of old Dubai, solid wooden furniture and have luxury equipped bathrooms. The hotel is in the immediate vicinity of Madinat Jumeirah bazaar (just take an abra-boat to cross the channel) so both shops, theaters; spas and health care centers are at your service.

That's what the brochure says. But reality is much better.
There are a lot of channels with sea water on the territory of Madinat Jumeirah. Arabic abra-boats are shuttling along them. Evening is the most beautiful and the most romantic time to have a boat ride round the resort.
HideShow

Certainly there are many more wonderful hotels worth writing about.
They are: a majestic hotel Atlantis - the heart of the Palm Jumeirah, a legendary Burj Al Arab which was mentioned only in passing. But they are worth being written separately.
Like the story? Share it with your friends.